Téa Leoni (played by herself) was an actress hired by Wayne Federman to star in The Lazarus Bowl as an FBI agent "loosely based" on Dana Scully alongside Garry Shandling as Fox Mulder. (TXF: "Hollywood A.D.")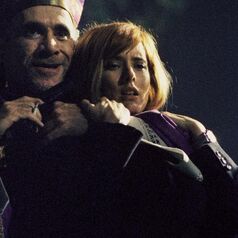 Behind the scenes
Scully makes a joke about Leoni having a crush on Mulder, which is because Leoni and David Duchovny were married in real life at the time.
External Links
Ad blocker interference detected!
Wikia is a free-to-use site that makes money from advertising. We have a modified experience for viewers using ad blockers

Wikia is not accessible if you've made further modifications. Remove the custom ad blocker rule(s) and the page will load as expected.