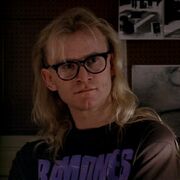 The Ramones were a punk rock band who, according to Langly, were "the greatest punk rock band in human history", and he often wore T-Shirts of the band.
Seeing Langly wearing a T-Shirt with the slogan "Joey Lives", Morris Fletcher asked who Joey was. Langly then explained his admiration for Joey Ramone, stating that he never sold out, and never let anyone grind him down.
(TXF: "Jump the Shark")
Appearances
Additional References
Background Information
Allegedly, after hearing that the producers of The X-Files wanted to use a T-Shirt of the band in the episode "E.B.E.", some of the band members became avid fans of the series, its spin-off - The Lone Gunmen - and cried at the death of the Lone Gunmen in The X-Files episode "Jump the Shark".
It has also been reported that, in the last weeks before he died, band frontman Joey Ramone spent a lot of time watching episodes of The X-Files and The Lone Gunmen television series.
| | |
| --- | --- |
|  ! | This article is a stub and is incomplete. You can help the X-Files Wiki by expanding it. |
Ad blocker interference detected!
Wikia is a free-to-use site that makes money from advertising. We have a modified experience for viewers using ad blockers

Wikia is not accessible if you've made further modifications. Remove the custom ad blocker rule(s) and the page will load as expected.