Blu-Ray Disc Information:

The X-Files: I Want to Believe
Format:
NTSC
PAL
Running Time (Approx):
1 Hr 44 Mins
List Price: (single disc edition)
$39.99 (US)
$49.99 (Canada)
£28.99 (UK)
Number of Discs:
2
Region 1 Release Date:
December 2, 2008
Region 2 Release Date:
November 24, 2008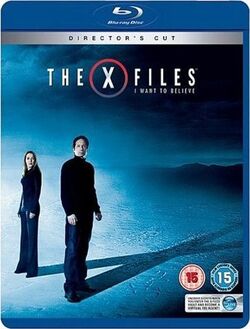 Features
The Region 1 release features both the Theatrical Version and Unrated Extended Cut of the film. The Region 2 release features the Director's Cut. Additional Features on both discs include:
BD Live Format
widescreen (2.40:1 aspect ratio)
50GB dual-layer disc authored in BD-J with AVC (MPEG 4) compression
English 5.1 DTS HD Lossless Master Audio
French / Spanish 5.1 Dolby Digital
1080p AVC
5.1 DTS-HD Master Audio soundtrack.
BD-Live web-enabled content (BD Exclusive)

The X-Files Dossier: Agent Dakota Whitney Files – create your own Special Agent avatar profile to browse through 5 "X-Files" case files on clairvoyance; users can also participate in several online forensic challenges with Agent Drummy

BonusView mode (BD Exclusive)

The X-Files Complete Interactive Timeline – featuring over 80 video clip segments from The X-Files archives
Picture-in-picture commentary with Chris Carter and Frank Spotnitz

In-Movie Features via BD remote direct access (BD Exclusive)

Real-time Index (Red Button)
BonusView Commentary (Green Button)
Behind The Camera (Blue Button)
Storyboards and Concept Art (Yellow Button)

Isolated Score track (BD Exclusive)
Enhanced for D-Box Motion Code systems (BD Exclusive)
Audio commentary by Chris Carter and Frank Spotnitz
Deleted Scenes
Gag Reel
Music Slideshow – "Dying 2 Live" by Xzibit
Body Parts: Special Make-up Effects featurette
Chris Carter: Statements on Green Production featurette
Photo gallery with over 370 images covering; Collectibles, Concept Art, Unit photography and Storyboards
Trust No One: Can The X-Files Remain A Secret? feature-length documentary

Part 1 – "You Can Go Home Again"
Part 2 – "Misinformation"
Part 3 – "Don't Give Up"

Digital Copy of the film for portable media players
Ad blocker interference detected!
Wikia is a free-to-use site that makes money from advertising. We have a modified experience for viewers using ad blockers

Wikia is not accessible if you've made further modifications. Remove the custom ad blocker rule(s) and the page will load as expected.