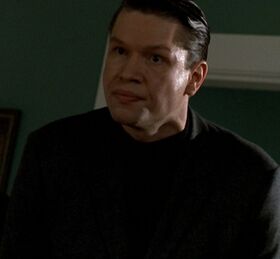 Valet
was the only name given to a man serving the nation of Belamisk in their scheme to steal $50 Million Dollars and use it to buy nerve gas. They wanted to use this nerve gas on the rebels within their country while keeping the arms deal secret. When their original hacker,
Alex Goldsmith
, refused to help them manipulate stocks to gather the money and transfer it into their accounts, the irritated Valet murdered him.
This forced him to seek out another hacker and Richard Langly of the Lone Gunmen volunteered in their efforts to unravel the death of Alex Goldsmith. With the help of Yves Adele Harlow, Langly made it seem they had transferred the millions when in reality no money had been sent into the account and they had used their access to rob the Belamisk government itself of millions of dollars, giving the rebels a shot at victory.
Valet and his men attempted to kill the Lone Gunmen but they narrowly escaped the compound in their van.
Ad blocker interference detected!
Wikia is a free-to-use site that makes money from advertising. We have a modified experience for viewers using ad blockers

Wikia is not accessible if you've made further modifications. Remove the custom ad blocker rule(s) and the page will load as expected.