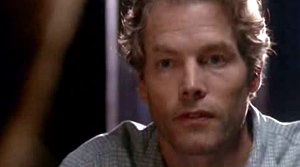 Vernon Ephesian
(played by
Michael Massee
) was a very religious leader of the apocalyptic cult at the
Temple of the Seven Stars
in
Tennessee
. A joint task force of the
FBI
and
ATF
agents raided the cult's compound in search of illegal firearms.
Mulder
and
Scully
were brought in to investigate allegations of Ephesian's supposedly supernatural abilities and child abuse. However, the agents wound up learning more about reincarnation from one of Ephesian's seven wives,
Melissa Rydell Ephesian
, who claimed to have known Mulder in a past life. The weapons cache was never found and Ephesian and his followers were released from custody. However, Ephesian led the cult into believing that the FBI and ATF were the armies of
Satan
as described in the Book of Revelation and had every member drink a poison-laced drink in a mass suicide.
Appearances
Edit
Ad blocker interference detected!
Wikia is a free-to-use site that makes money from advertising. We have a modified experience for viewers using ad blockers

Wikia is not accessible if you've made further modifications. Remove the custom ad blocker rule(s) and the page will load as expected.