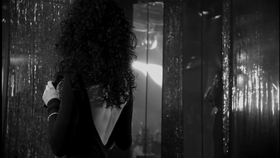 Walking in Memphis is a song which was included in the soundtrack of The X-Files episode "The Post-Modern Prometheus". It was originally written, recorded, released and regularly performed by American singer-songwriter Marc Cohn in 1991. The song received many different variations and covers by many different music artists. Pop singer Cher recorded and released (in 1995) a cover of Cohn's song, the version incorporated into "The Post-Modern Prometheus". The lyrics in Cher's cover are slightly different to those of Cohn's original, with first-person references changed to female rather than remaining male.
Cher's cover of "Walking in Memphis" was placed as the final song played within the episode, with Cher (played by a look-alike) apparently singing it during a concert. As used in the installment, the song not only shows the happiness within the characters of Mulder, Scully and The Great Mutato, at the end of the episode, but also implies the characters are going through spiritual changes within themselves as they, along with the townspeople, realize the "monster" of The Great Mutato is not really a monster and has a heart, after all. Another interpretation is that The Great Mutato, now seen as a regular being and no longer as a monster, is now walking down a path that leads to a better and a "spiritual" life with others.
External links
Edit
Ad blocker interference detected!
Wikia is a free-to-use site that makes money from advertising. We have a modified experience for viewers using ad blockers

Wikia is not accessible if you've made further modifications. Remove the custom ad blocker rule(s) and the page will load as expected.