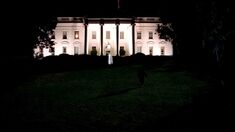 The White House is the official home and principal workplace of the President of the United States of America. The house is built of white-painted Aquia sandstone in the late Georgian style. It is located at 1600 Pennsylvania Avenue NW in Washington, D.C.
In 2001, Howard Salt attempted to reach the President after successfully scaling its outer fence. He was stopped by the Secret Service ERT, but he accidentally shot and killed himself before he could be apprehended. (TXF: "Three Words")
External links
Edit
Ad blocker interference detected!
Wikia is a free-to-use site that makes money from advertising. We have a modified experience for viewers using ad blockers

Wikia is not accessible if you've made further modifications. Remove the custom ad blocker rule(s) and the page will load as expected.