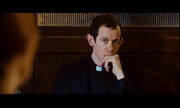 Father Ybarra (played by Adam Godley) is the chief Priest from Our Lady of Sorrows Hospital. Ybarra didn't agree with Dana Scully to make the cell stem treatment to her sick patient, Christian Fearon. (TXF: The X-Files: I Want to Believe)
Ad blocker interference detected!
Wikia is a free-to-use site that makes money from advertising. We have a modified experience for viewers using ad blockers

Wikia is not accessible if you've made further modifications. Remove the custom ad blocker rule(s) and the page will load as expected.