A zombie is an undead person in the Afro-Caribbean and Creole spiritual belief system of voodoo. These folkloric zombies are human bodies re-animated by supernatural means and shamanistic medicine to create dread among the living. Other more macabre versions of zombies have become a staple of modern horror fiction, where they usually engage in human cannibalism.
Colonel Jacob Wharton demonstrated voodoo techniques in 1995 to raise the dead. (TXF: "Fresh Bones")
In
2000
,
Fox Mulder
and
Dana Scully
enlisted the aid of
Frank Black
to investigate murders that appeared to have connections with zombies and the
Millennium Group
.
Mark Johnson
, capable of
necromancy
, was indeed responsible for raising a number corpses back to life to engage in what he believed to be a battle at the imminent end of days. Mulder and Black were able to destroy all of the zombies. ("
Millennium
")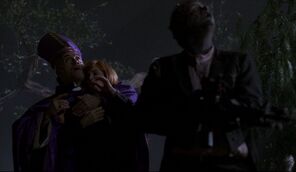 Later that year, Wayne Federman produced The Lazarus Bowl, a film starring Garry Shandling and Téa Leoni as Mulder and Scully, respectively, in their fight to stop the Cigarette Smoking Pontiff from creating a zombie army. The Smoking Pontiff's zombies were armed with sniper rifles. In discussion about the undead with Scully, Mulder surmised their compulsion to eat human flesh was based on a desire to do all things they couldn't do while alive. After that, zombies would do a lot of partying, but nobody was around long enough to see it. ("Hollywood A.D.")
External links
Edit
Ad blocker interference detected!
Wikia is a free-to-use site that makes money from advertising. We have a modified experience for viewers using ad blockers

Wikia is not accessible if you've made further modifications. Remove the custom ad blocker rule(s) and the page will load as expected.